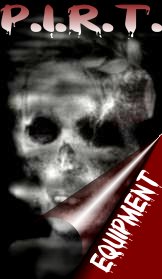 During the course of an investigation we use several types of equipment, some hi-tech, some low-tech. Some of the primary equipment include; digital/35mm cameras, IR video cameras, audio recorders and assorted software programs to analyze our findings. We also use industry standard EMF detectors and thermal gauges to help support our findings.

Camera Equipment

Still Cameras. I use both film and digital, although I have been using digital more often as of late. It's cheaper, faster and the color spectrum has vastly improved on digital.
Digital Camera.

Various Tripods.

Computer Equipment
Compaq Presario 7500 Desktop Computer with assorted photographic, video and audio software.

Field Laptop Computer with same capabilities of above desktop computer.

Detectors

Voice Recorders (Digital and tape). A must for EVP's.
EMF detector.
Digital Thermometer.

Video Surveillance Equipment
Video Cameras. Night vision capable.

Assorted Surveillance Gear.

Monitors. The little square black thing at the end of the wire coil is a low light camera.

Other Equipment
What I like to call the "WARBOX" - Assorted spare parts, film, batteries, pens, etc.