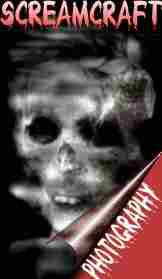 SCREAMCRAFT is part of a project I have been working on for several years - in one form or another. It began as a writing project for a horror screenplay, then progressed into a horror/sci-fi magazine, then an annual haunted house attraction. Although the magazine and haunted house are no longer in operation, I still produce what I refer to as SCREAMCRAFT PHOTOGRAPHY.
With over 20 years of photographic experience I can create horrific, haunting, gothica or just plain eerie images for any of your film/video projects, video/DVD covers, advertising & marketing campaigns, special events, or any other project needing photo documentation...with a frightful twist!
Below you can browse through just some of the mayhem I have created on film. For more information please feel free to email me.

ScreamCraft Porfolio
"Rise & Dine", "Princess Anaka" and "Creature from Black Lagoon" model kits. Photo work done for professional kit builder Tom "Monsterman" Henson. The "creature" kit on the right was a given a look of being underwater.


I took the photo on the left to produce the character of "Sindee Nyte," pictured on the right. "Ms. Nyte" was a Columnist for my Magazine - ScreamCraft Magazine. The painting was done by renowned genre artist John Kevin Hopkins.


The series of photographs below were taken at a local cemetery. Initially, I was trying to capture a more "haunting" feeling. However, once I was there shooting, it was quite clear they would be more spiritual.