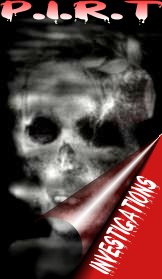 P.I.R.T. investigations are performed by experienced Investigators and Research Specialists. We use a wide assortment of equipment and techniques to assist us in analyzing all aspects of a suspected haunting.
We complete our investigation with a thorough written report, along with any hard physical evidence gathered during the investigation.
To request an investigation you may contact us at any time. Just give us a brief description of your haunting, your location, and a contact name and number. Upon review, we will contact you as soon as possible. We can also do an analysis of your captured photo or video.